The Jersey Kid returns with some predictions for today's UFC 132. How fitting that I'm IN The Jersey State as I write this!?
Champ Dominick Cruz vs. Urijah Faber BAD BLOOD. Two simple words that can easily describe these two combatants. I'm excited to see this fight because these two guys are small, explosive and want nothing more but to be unleashed on their opponent standing across the cage. It can be said that Faber holds a slight edge with a prior victory at a heavier weight over Cruz, but I think we're pretty well matched. Cruz has only one loss on his record and it's against the The California Kid. Urijah was in the middle of an incredible run when they last faced and since has added a few notches to the loss column, creating doubt in the eyes of a lot of people who thought he was untouchable. Cruz is pumped andready, but I still have to go with Faber. I think aside from Brown's TKO over him, he's proven he can hang in there (see Jose Aldo fight). URIJAH FABER
Wanderlei Silva vs. Chris Leben WOW. A great matchup involving two fan favorites. Anytime Wandy steps into the ring I'm interested, same for Leben. These are two warriors who have proven that they could take a beating and give one. As difficult as it is for me to pick against Wanderlei, I have to say I give Leben the slight advantage as he is the younger fighter and between the two, the one that has at least made SOME changes to his style. What I question is if Leben fights a smarter fight or one that will see him throwing caution to the wind, and going for broke as he is often happy to do. CHRIS LEBEN
Ryan Bader vs. Tito Ortiz Oh Tito. How's your, "hacked" twitter account hanging? I have always been rubbed the wrong way by Tito, but still found myself rooting for him. I liken him to a Wanderlei or a Cro-Cop in the sense that I find myself wishing he'd come out on fire and show the tenacity (Tito's favorite word) and aggression he was once known for. There is a lot on the line for these two. Tito is rumored to be fighting for his job, which isn't that far fetched, especially considering he hasn't won in 5 years and the UFC's competition is pretty much non-existent right now. Bader is trying to reestablish himself as a contender in the Light Heavyweight division after Jon Jones derailed his train of recent success. If history tells us anything, I think it's safe to say it will repeat itself and Tito will have a hard time against the younger, stronger wrestler. Whatever happens Tito, just go out in a blaze. NO EXCUSES after the fight. I'd love to see him come out and annihilate Bader, pantomime the grave digging and throw on his famed T-Shirt. It should probably say something like, "I just Mastered-Bader from the top position." RYAN BADER
Carlos Condit vs. Dong Hyun Kim "I'm a changed man." Don't know if Condit has ever proclaimed this, but he should. The Condit I witnessed in the Dan Hardy fight seemed like an entirely new fighter! He's scary. Greg Jackson suits him well. This in my opinion could very well be fight of the night. In fact, I'd bet their two purses on it. I am going to pick Condit here. He's more experienced against tougher caliber fighters and his reinvention will continue to raise his stake in the division. CARLOS CONDIT
Dennis Siver vs. Matt Wiman This fight contains to men that fly under the radar. Both of them continue to impress me in their recent outings. I don't really look at either as serious, "contenders" in the division, but they continue to work through some solid competition. A few more wins for either and you may see them close to this division's king of the mountain. I have to go with Siver here. I feel that Wiman is weakest when he is not pushing his own pace and Siver is a bulldog that will not stop coming forward. Both have been on the receiving end of flash knockouts and both have dished them out, so anything is possible. We should at the very least be ready for an exciting fight. DENNIS SIVER
Melvin Guillard vs. Shane Roller THE YOUNG ASSASSIN has to be one of the most exciting fighters in the division. He possess so much potential...PROVIDING he isn't fighting someone that could choke him out. UH OH...Roller is no stranger to guillotines and rear naked chokes.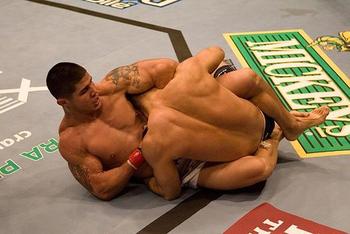 Guillard needs to start strong, fast and aggressive. Take a page out of Benson Henderson's book when he fought Roller. Actually...that's a good fight to consider if Guillard takes the W. Joe Silva, you listening. Henderson vs Guillard. I'll pay for that, so I'll go with MELVIN GUILLARD.
Rafael dos Anjos vs. George Sotiropoulos SOTS! Always love watching Sotiropoulos (god I'm not typing that again if I can help it) fight. His fight against Joe Stevenson is still one of my favorites. He is a tireless, well-rounded worker and while I don't think he'll be a threat TREMENDOUSLY on the feet, he will take Dos Anjos convincingly. GEORGE SOTIROPOULOS (crap.)
Brian Bowles vs. Takeya Mizugaki This a a fight that could easily be on a main card. These two dudes are no joke. I have to think both of them have this in common, their best fights were against former title holder, Miguel Torres. Mizugaki lost a close decision and Bowles knocked Torres senseless. I see this going the distance and spending most of the minutes on the ground, but I think Bowles will control Takeya for the Win. BRIAN BOWLES
Aaron Simpson vs. Brad Tavares As many wins as Simpson possess, finishing opponents on the feet...I think he's going to try to control Tavares on the mat. Tavares is a great young fighter who looks better with each fight. I like the former Ultimate Fighter competitor here. BRAD TAVARES.
Anthony Njokuani vs. Andre Winner ANDRE WINNER is an interesting cat. I still haven't figured this guy out. I think he can be serious in this division, but he's not very consistent in my opinion. I think he can keep Njokuani at bay much like Edson Barboza did. I take ANDRE WINNER for the win.
Jeff Hougland vs. Donny Walker I don't know much about either fighter here and will make this pic solely on their past opponents. DONNY WALKER (because I think of Blue Label when I hear his name.)